"
FSX Douglas D-558-2 Sky Rocket #003_v1" has been released!
This is a new project by me.
////////// You can download it from "Flightsim.com" and the "Simviation site". //////////
 I only upload to these two sites.
「FSX ダグラス D-558-2 スカイロケット 3号機」をリリースしました。
ダウンロードはFlightsim.comとSimviationのサイトから出来ます!!
この二つのサイト以外にはアップロードしていません。
Douglas D-558-2 achieved Mankind's first Mach 2 on November 20, 1953.
For those who like airplanes, I think it is as famous as the Bell X-1.
I've been longing for airplanes since I was a child, but for some reason I learned about D-558-2 six months ago.
D-558-2 appeared in the movie "The Right Stuff" 37 years ago, but at that time I wasn't interested in D-558-2.
Why?
The reason was that the glory of Chuck Yeager and Bell X-1 was so dazzling that I couldn't see D-558-2.
When I released the XF-91v2 in June of last year, someone told me about the Douglas D558-2.
At this time, I first learned about Douglas D-558-2.
Beautiful streamlined design, perfectly symmetrical shape.
Very elegant and perfect design as an aircraft!
And a pure white body.
What a beautiful form! !!
D-558-2 is more beautiful than X-1! !! ..
My eyes were nailed to D-558-2 for a while.
At that time, jet engines weren't powerful enough yet.
Therefore, although the rocket's intense speed of sound looks barbaric, it must have been entrusted with the dreams and hopes of mankind.
I would like to pay tribute to the aviation engineers and pilots who pursued their dreams 70 years ago.
Douglas D-558-2 became famous on American television shows at the time, but I don't know if it was broadcast in Japan, where I live.
At that time I wasn't born yet.
However, I found three types of D-558-2 tin toys sold by Japanese toy makers.
Seventy years ago, perhaps the glory of D-558-2's Mach 2 was also known in Japan.
My favorite is that the triangular canopy glass is small and the pilot's face looks trapped
Then, when you open the cockpit hatch of D-558-2, it looks like an adult is riding on the playground equipment of an amusement park airplane.
What kind of scenery can you see from the cockpit of D-558-2, which seems to be very narrow?
And I was excited to see the powerful take-off photo of D-558-2 using JATO(Takeoff support rocket unit).
I wanted to reproduce these in FSX.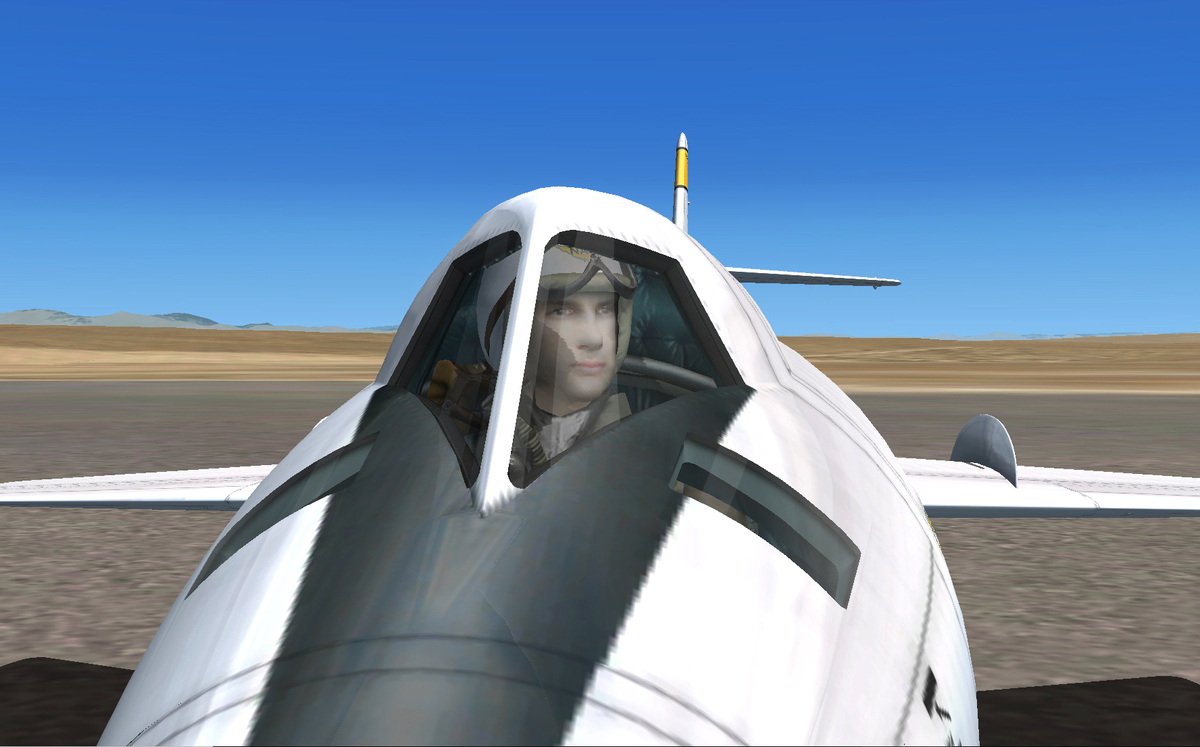 This model is D558-2 number 3 and is a hybrid of turbojet and rocket engine.
(Number 3 is not the unit that achieved Mach 2.)
I don't know if it actually flew with this marking, but I referred to the number 3 of D-558-2 exhibited at Antelope Valley College in California.
It will start in July of this year and will be completed in December.
I completed D-558-2 in just half a year.
Like the D558-2, this is the fastest record I've ever had.
Thanks to Chuck Yeager for the first time beyond the speed of sound, Scott Crossfield to achieve Mach 2, and a friend who taught Douglas D-558-2.
And dedicate this model to the great history of aircraft.
*Mr. Chuck Yeager died on December 7th this month. May he rest in peace. His great achievement is eternal.
 
ダグラスD-558-2は、1953年11月20日に人類初のマッハ2を達成しました。
飛行機が好きな人には、ベルX-1と同じくらい有名だと思います。
しかし・・・、子供の頃から飛行機に憧れていた私が、し、しりませんでした。
なぜか半年前にD-558-2のことを知ったのです。
D-558-2は37年前の映画「ライトスタッフ」に登場しましたが、当時の私ははD-558-2に興味が湧かなかったのです。
その理由は、チャック・イェーガーとベルX-1の栄光が眩しくて、D-558-2が見えなかったんじゃあないでしょうか。
去年の6月にXF-91v2をリリースしたとき、誰かがダグラスD-558-2について教えてくれたのです。
この時、私は初めてダグラスD-558-2を知りました。
そして調べてみました・・・。
う、美しい流線型のデザイン、完全に対称的な形状。
航空機としての非常にエレガントで完璧なデザイン!
そして真っ白な純白ボディ。
う、美しい、なんて美しいフォルム! !!
D-558-2はX-1より全然かっこいいじゃあないですか! !! 
私の目はしばらくの間D-558-2に釘付けにされました。
当時、ジェットエンジンにはまだ十分なパワーがありませんでした。
なのでロケットの助けを借り、より早く、より高く。
ロケットエンジンによる強引な音速突破は野蛮な行為に見えますが、人類の夢と希望を託されていたに違いありません。
私は70年前に未知への恐怖を乗り越え、夢を追い求めた航空技術者やパイロットに敬意を表したいと思います。
ダグラスD-558-2は当時アメリカのテレビ番組で有名になったそうですが、私が住んでいる日本で放送されたかどうかはわかりません。
その時、私はまだ生まれていませんでした。
ところが、日本の玩具メーカーが販売しているD-558-2ブリキの玩具が3種類見つかりました。
70年前、おそらくD-558-2のマッハ2の栄光は日本でも知られていたかもしれません。
私のお気に入りは、パイロットの顔が小さな三角形のキャノピーの中に閉じ込められているように見えるところです。
次に、D-558-2のコックピットハッチを開くと、大人が遊園地の飛行機の遊具に乗っているように見えます。
非常に狭いと思われるD-558-2のコックピットからはどのような風景が見えるでしょうか。
また、JATO(離陸支援ロケットユニット)を使ったD-558-2の強力な離陸写真を見て興奮しました。
私はこれらの光景をFSXの世界で再現したくなったのです。

D-558-2が実際にこのマーキングで飛んだかどうかはわかりませんが、カリフォルニアのアンテロープバレー大学に展示されていたD-558-2の3番を参考にしました。
音速を超えて初めてチャック・イェーガー、マッハ2を達成したスコット・クロスフィールド、そしてダグラスD-558-2を教えてくれた友人に感謝します。
そして、このモデルを航空機の偉大な歴史に捧げます。
*なんと、今月12月7日にチャック・イェーガー氏が亡くなったそうです。
 彼の偉大なる功績は永遠に刻まれるであろう。